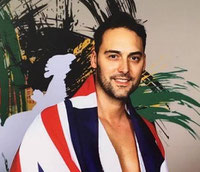 From time to time you just meet karateka that are special.
Not just the way they move but also the way they behave is quite unique.
Xavier Boulanger from England is one of them.
Always smiling and being friendly outside of the tatami, but strong, quick and precise when he is on it. Except being incredibly tall, (I look like a Smurf next to him.) he also is built like an Olympic athlete. He is a professional fitness instructor btw.
Check out his way to do de-ashi barai (Foot sweep) in this video. He has put a lot of people flat on the tatami in competitions with this move.
It works, believe me. Enjoy!