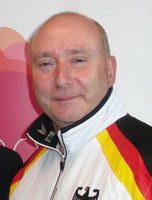 We all want to be like James Bond. Right? Being able to fly helicopters, tanks, motorcycles, boats and jet planes.
Travel around the world, shooting like a cowboy and save the day by punching criminals. Sounds impossible? 
Well... Sensei Michael Bock gets close to that.
I still wonder how he manages to do all this stuff!
He holds Black Belts in Karate (7° Dan), Tae Kwon Do (3° Dan), Judo (6° Dan) and Jiu-Jitsu (6° Dan).  On weekends he often travels the world to hold seminars and even organizes workshops in Germany. He is the Director and technical instructor of the DTSKF (German Traditional Shotokan Karate Federation) His profession is to be a Police Investigator in Berlin, Germany.  In his free time (Yes, he somehow manages to have free time) he is the chairman of his own charity organization Völkerfreundschaft e. V. for Children in need.
How is that possible? Maybe he doesn't need to sleep!?
Anyhow, I try to be at every seminar that he teaches. For example: I attended the 24. Easter Karate Seminar in Berlin last week. Also organized by Sensei Michael Bock.  As I saw him at the venue I had to look twice… His hand was wrapped up in gauze.
"There goes my chance to film something with him." I thought.
But no! He insisted to do it anyway!
After I looked like a stunned goldfish for 10 seconds, I said: "Okay, ACTION"
Well, see for yourself at the video and discover what an awesome Sensei can do with only one hand. He shows a concept known as "Stone Skippin"!
Enjoy
P.S. A big "THANK YOU" to Frank Pinnig for being Tori while filming (The floor was pretty hard:-D)