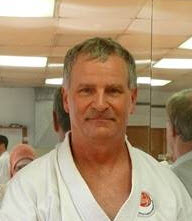 Sensei James Oberschlacke still knows how to be quicker than younger and faster Karateka.
Every time he explains something, I am totally absorbed. Why? Maybe I discovered how he does it! In my opinion it is the way he approaches teaching in general.
Do you remember your old boring history teacher?
I do! And I am sure that I didn`t like history because of him.
But if Sensei James Oberschlacke would have been my history teacher, I would have studied history for sure. I think his secret to make everything interesting is that he not only knows what happened, but also WHY things happened.
He applies this same principle to his Karate teachings.
Not only showing techniques, but knowing and explaining why you have to do it that way.
Enjoy