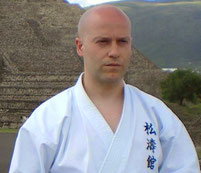 Sensei Rubén Cernuda shows and explains different ways to use the hips in Shotokan Karate.  Watch his whip-like movement closely!
Last weekend I traveled to Berlin to train (and teach one or two things myself) at
the 24. Easter Karate Seminar in Germany. It was AMAZING! There were 9
awesome instructors from around Europe to train with. I just had to film something for you guys. But I didn't have the time to film everyone!
So I had to choose.
One of the sensei that I simply couldn't miss was Sensei Rubén Cernuda, 7° Dan from Spain.
I'm pretty sure that if you google "clean technique" his photo will show up!
I could use a lot of adjectives to describe him. Let me try a few: Fast, precise,
strong and…kind
Yes, he's so kind that you would never expect such a devastating power behind
his strikes.
So to all muggers out there: If you see a bald, smiling and friendly
looking dude on the streets of Spain, don't risk it. It's going to end ugly for you.
Sensei Cernuda is the technical director of the International Shotokan Karate
academy and started karate training in 1977. He holds a ton of trophies and
medals in his closet. You can check his achievements HERE!
For my video, Sensei Ruben shows a way to use the hips in diferent ways.
A big "thank you" also goes to Isaias Gonzales for the translation!
Enjoy