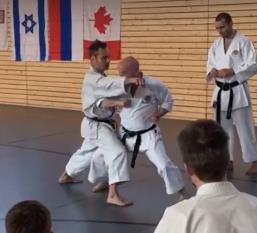 When it comes to self-defense, it's a lot harder if you are a small guy. You have a shorter range then most of your opponents and you will probably be weaker. So what can we do to overcome that gap? Let's try it by getting closer!
Done?
Nice... whats next?
Okay, you managed to get very close to your opponent. (Maybe it was already close from the start!)
Now you have to equalize the force difference.
I am not talking about the force of star wars but the force of your strikes. I suggest to try the Empi-Uchi (Elbow-strike)
The Empi-Uchi is strong… Very STRONG. It uses a lot of body weight and the bones in your elbow are super-hard. Sensei Cernuda from Spain has an awesome combination to train the Empi-Uchi with a partner.
Enjoy