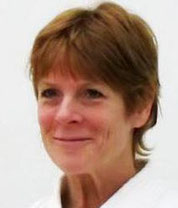 There are many Karate teachers out there that try to make you work harder to become stronger, faster and better while training.
Some scream and yell at you or even call you lazy, hoping to motivate you. Sensei Cathy Cline is none of them. She doesn't need to yell or scream. Somehow she is able to motivate you just in the way she explains things. It's hard to describe it, but the energy she transmits when she teaches is incredible.
As a student you can clearly see that she really loves what she teaches and tries to expand the passion.
Sensei Cline is a 8th Dan ISKF Instructor and one of few Women to be awarded this rank in the world. I had the privilege to attend a couple of classes with her at the annual ISKF Master Camp in Philadelphia and I always look forward to her classes. In this Video, Sensei Cline shows a very basic but extremly important way of shifting in Kata. Enjoy the Video with Sensei Cline!