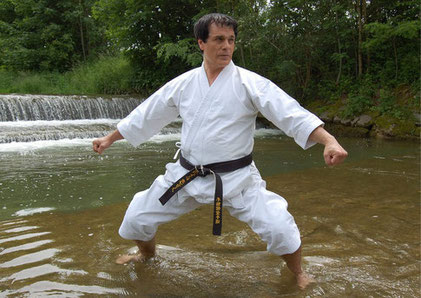 This time I didn't travel very far.
To be honest it was a quick bicycle ride to the dojo of one of my first teachers. The Dojo is located in a basement of an apartment building in the city of Basel, Switzerland. I visit him to say hello sometimes.
Every time I go there I am still amazed. There is no Tatami on the floor and you smell a mixture of sweat and incense. I can still feel the pain in my fist when I'm thinking at all the pushups my brother and I had to do in there. (Not the easy ones on the palms but always with the fists).
But the most impressive is the teacher: Sensei Salvatore Caprino.
Sensei Caprino is one of Switzerlands Karate pioneers that started karate back in 1972. He holds the 8° Dan and is also a Tai Chi Teacher.
If I should describe his style of teaching Karate I would just say:
"old-school"
He focused a lot on endurance and strength training. I still remember 15 year old me doing a bazillion of punches and kicks in his classes until I couldn't feel my arms and legs anymore. After that we had to do the kata until we dreamed about it at night. Always full power.
Not much explanation, just shut up and train.
My brother and I felt like we were in a Shaolin Monastery back then. Always happy when training was over like "Yay, we survived!"
Nowadays training has changed for the good in my opinion but for that period of my life it was good… very good.
Now his teaching is different because he says that he wouldn't have students if training would be the same like 20 years ago.
I think he is right.
Time has changed.
So, now let's see what Sensei Caprino will show us for this article.
Remember Bruce Lee`s one-inch punch? Ever wondered how he did it? Let's try "Chinkuchi".
This is something that is mostly unused in shotokan karate. Most time we use the hips to generate power for our strikes. Sensei Salvatore Caprino from Switzerland shows a different way called Chinkuchi. This method is mostly used in Okinawan Karate and is perfect for self-defense in close distance.
Use the wave-power!
Enjoy
P.S. TURN ON THE SUBTITLES UNLESS YOU UNDERSTAND ITALIAN:-D